Jurassic World: Dominion Dominates Fandom Wikis - The Loop
Play Sound

Regular, neutral, Toronto or Toronto insulin. A term used most often in Canada, Toronto simply another name for R or neutral insulin, no matter who makes it or its origin. Toronto was where Frederick Banting and Charles Best did their work discovering insulin, and terming such insulin Toronto insulin honors their work there.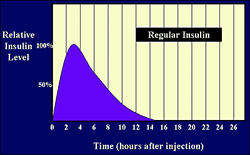 A short-acting, soluble, non-suspended insulin produced from r-DNA/GE/GM, bovine, or porcine sources. R or neutral insulin is basically zinc insulin crystals dissolved in clear fluid with nothing added to alter its action or speed[1]. From 1921 to the 1930's when PZI was developed, R was the only kind of insulin available.
While both R/neutral and semilente insulins are considered fast-acting, they differ in a few ways. As above, there's no suspension or buffer[2] in R/neutral; it's totally dissolved and soluble, meaning it can safely be used intravenously.
The very small insulin particles in semilente insulin are suspended by zinc[3]. Semilente is cloudy, has an acetate buffer and cannot be used intravenously.
R/Neutral insulin cannot be reliably mixed with Lente or Ultralente insulins[4][5]. Semilente can; the ratio of 3 parts semilente insulin to 7 parts ultralente insulin produces Lente insulin[6].
R/Neutral Insulins
Further Reading


References