Insuvet Neutral
R,Neutral by Pfizer Animal Health
short-acting
Bovine
U100
none
Line
Insuvet
Also known as
beef R, beef neutral
Similar to
 
Action in cats
 

onset Xh,
peak Xh
duration Xh

Action in dogs
 

onset 10-30 minutes,
peak 1-5h,
duration 4-10h

Use and Handling
Type
soluble
Shelf Life
24 months
When opened
28 days room temp.
In pen
28 days room temp.
Notes
 

protect from light and heat
Do Not Freeze
May be used intravenously
This is Pfizer Animal Health's U100 100% bovine R/neutral insulin[1] in the Insuvet product line[2].
Technical details
NOAH[3] is the UK's veterinary medicines compendium. Their entry for Insuvet neutral describes it as U100 highly purified bovine neutral  insulin injection BP (British Pharmacopia)presented in 10ml vials. Shelf life[4] of Insuvet Neutral is 3 years.
Usage and handling
It is described as having a rapid onset[5] and short activity duration. [6][7] Like all other R/neutral insulins, it has had nothing added to change its speed or length of activity. Since it is soluble, it is able to be administered intravenously, intramuscularly or subcutaneously.
Store the insulin at[8] the insulin at 2C-8C. Do not freeze. Insulin should only be in use 28 days before replacement.
Dosage information[9] for using Insuvet Neutral in ketoacidosis.
Comparable to CP Pharma's Hypurin Vet Neutral (veterinary use only) and Hypurin Bovine Neutral (approved for humans). It is available only in the UK. The insulin is also comparable to the former Lilly insulin, Iletin I R[10]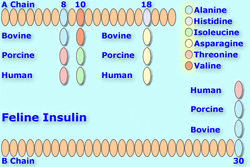 Best Pet Pharmacy stocks this for sale in the UK.
References