Pfizer Animal Health[1] produces three U100 bovine insulins available in the UK: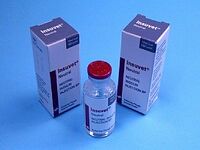 Some UK dogs also use Insuvet, particularly the lente type. Read about Molly[3], an Old English Sheepdog, who has diabetes and is also blind. Molly lets neither of these things stop her from living life to the fullest.
Schering-Plough Animal Health contracted Wockhardt UK's CP Pharma to produce its Insuvet insulins[4]. It's believed that Pfizer has continued this association.
Source information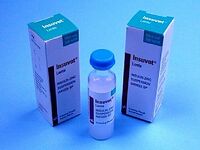 Insuvet[5] contact information.
All three of the Insuvet insulins[6] are shown on page 13 of the UK approved veterinary medications list.
Best Pet Pharmacy[7] is online and UK-based, serving UK and Northern Ireland only. As of October 31, 2005, UK law abolished all fees which vets could charge connected with writing prescriptions. This means that one can obtain a prescription without charge and compare medication pricing[8][9]. All insulins in the UK are classed as POM--Prescription-Only-Medications[10], so you will need one if you deal with them. Best Pet stocks Insuvet Neutral, Insuvet Lente, and Insuvet Protamine Zinc.
For any of you who are interested in the Insuvet insulins but are unable to obtain them outside of the UK, CP Pharma is the actual producer of them[11] under the Insuvet brand name for Schering-Plough Animal Health. CP makes an identical insulin for humans for each of the Insuvet insulins:
If you are in Canada, your vet may also be able to obtain manufactured beef insulin from the UK for you through Health Canada's Emergency Drug Release program[12]. With it, you are able to receive up to 6 months worth of insulin; a C$ 50.00 fee for the application is required [13]. If permitted, you would then be eligible to import PZI insulins such as Insuvet Protamine Zinc, as well as the other insulins Insuvet produces.
The program is similar to Health Canada's Special Access Programme [14] for importing necessary drugs for people.
Wherever you are, the comparable CP Pharma Hypurin insulins should be able to be imported provided you follow the import rules and guidelines for your country of residence. CP Pharma will be glad to assist you if you contact them through their website link on the CP Pharma page.
References
All items (3)